Sponsorships
For 50 years, Tecumseh! has been a leader in the tourism and arts industries in Ohio and across the Nation.  The arts in our community and country had born the hardest burden of the Covid pandemic with thousands of theatres and performance spaces closing their doors forever.  Our careful planning and support from our community ensured that Tecumseh! would not be among them.  We returned to the stage this past summer and led the nation in how to re-open safely, and successfully.  It was a stellar summer!
Here are some things that you may not have known about our organization. Tecumseh! is produced by The Scioto Society, Incorporated, a 501c3 nonprofit organization founded in 1973 by brave and civic-minded business people who decided that Chillicothe needed something new and special to draw more tourism to the area. That idea turned into Tecumseh! The founding board members of the organization recruited Emmy Award winner Allan W. Eckert to write the script. There was a lot going on in 1973: the Cold War was still surging on, the U.S. ended their involvement in the Vietnam War, the Watergate Scandal, the Space Race, the 1973 Oil crisis. So, the idea of organizing an outdoor theatre production was indeed a leap of faith.
Today and every day, we honor the people who are portrayed in our production, we honor the founding board members for their bravery and vision, and we honor the future generations of Ohioans to come: may they never forget our history.
We are offering you the opportunity to be a part of this magical production. Sponsorships are offered on a first come, first serve basis, and all sponsors will receive special offerings within their packages. Please see the different sponsor levels attached to this document. A portion or all of your sponsorship may be tax deductible.  Every dollar you give in sponsorship will become $50 spent in our community this year!
I realize these past years were difficult for all of us and asking you to step to the table once again is a big ask.  Tecumseh! is an investment in our community, both economically, and socially.  It's an investment that pays back in more than dollars.
Sincerely,
Brandon Smith, CEO
The Scioto Society, Inc.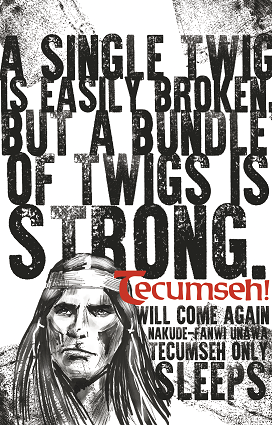 50th Anniversary Season Sponsors
(Interested in becoming a sponsor?  Download our sponsorship pack here:  2022 Sponsor Pack
$10,000 & Up
The Ross Chillicothe Convention & Visitors Bureau
$5000
Accurate Heating & Cooling
Dispatch Media
Horizon
Kroger
$4000
Adena Medical Staff & Physician Recruitment
LUAP
Presenter ($3000)
Adena Health System
Anytime Fitness
CP Management
Healthcare Logistics
Herrnstein Auto Group
Ohio University Chillicothe
ONN
Southern Ohio Multimedia (SamJam Bluegrass)
The Local Pages
Producer ($2000)
G & J Pepsi-Cola Bottlers, Inc.
Tecumseh Alumni Association
$1500
Bristol Village
Holiday Inn Express
The Sancuary
Sponsor ($1000)
BBB Music Center
Benson & Sesser
Chillicothe VA Medical Center
Friedman, Bettie
Globe Furniture
Herrnstein Auto Group
Janney Montgomery Scott
Petland
SFM Insurance
Supporter ($500)
Affordable Dentures & Implants
AKM Building Systems
Atomic Credit Union
Berger Health Systems
Stephen & Linda Brown
de. Huddleston, Inc.
Detillion Lanscaping
Bettie Friedman
Fluor
Hirsch Fruit Farm
MT Business Technologies
David Polk (Wahalla Enterprises)
RHF Enterprises
Tim & Joyce Staab
Subway of Chillicothe
The Haute Doggerie
Ware Funeral Home
Foundation & Government Support
The Ohio Arts Council
David Meade Massie Trust
Robert E. and Genevieve B. Schaefer Fund
Ohio Facilites Construction Commission
Ross County Facilities Commission
Ross County Commissioners
South Central Power Foundation
The National Endowment for the Arts
The Small Business Administration
The Scioto Society, Inc. (501C3)